Wowzers. Wish I'd taken a photo of that now! It was blooming delicious.. bear in mind we used to holiday in Italy.. AND we got married there.. everyone just said "that's the best lasagne I've EVER had!" 

Laura
A quick one to say how delicious our Fakeaway was. Thank you very much & we look forward to another menu being available soon.

John & Gwynneth
You have just made my life soo much easier!

Fiona, Tur langton
"It was all great. Thank you. Lamb and potatoes particularly delicious. And the breads!" (Grazing Table)

Sally, Tur Langton
We are soo glad we found you!

Saiqa, Great Glen
I have told all my friends about you because this is brilliant!

Karen, Leicester.
This is really to say thank you for sorting things so quickly & also for the wonderful donuts.

Once again the meal was super & I've just placed my order for "Two Guys"!

John, Leicester
We all loved them! There was loads to eat! It was a really lovely selection of items and the Eccles cakes were very welcomed too! They were beautifully packaged, had a real wow factor and were a great talking point."

Caroline, Market Harborough
We were absolutely thrilled with the food Tom came and made for us for our daughters party. It was so incredibly delicious and creative and all of our friends and family are still talking about it! Everything was just so seamless and professional.

Charlotte, Leicester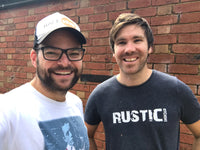 Who are we & what do we do?
Friends & colleagues for over 10 years we Tom (left) & Lee (right) have dreamt this idea up for most of that time... Then the big bad C word came and we found ourselves in a situation to be able to make the dream a reality, both of us professional chefs for over 20 years the passion we have for food and making it ace is insurmountable. 
We also offer "Fake-aways" Grazing boxes, pre-prepared food boxes such as sunday roasts, BBQ and breakfasts it's all on our store!