Support Local by Keeping it Local!
Find out why we love to support the local businesses that surround us, and who they are!
Have you ever thought to yourself when buying items on you weekly shop, where does this delicious food actually come from? 
Well asides from RKD's very own homemade Fakeaways, Boxes and Ready Meals, discover what other fabulous local businesses we work with, and why we love to support them by keeping it local!
At the Rustic Kitchen & Deli we pride ourselves on working with as many local businesses and suppliers as we possibly can. There are so many benefits of this, to everyone involved! Not to mention with the current 'C-word' situation, now more than ever!!
So why not do your research and see who and how you can do more to support your local businesses. You will not regret it, we promise!
So, who are these fantastic local businesses that we work with you say?
Some of our Fave Local Businesses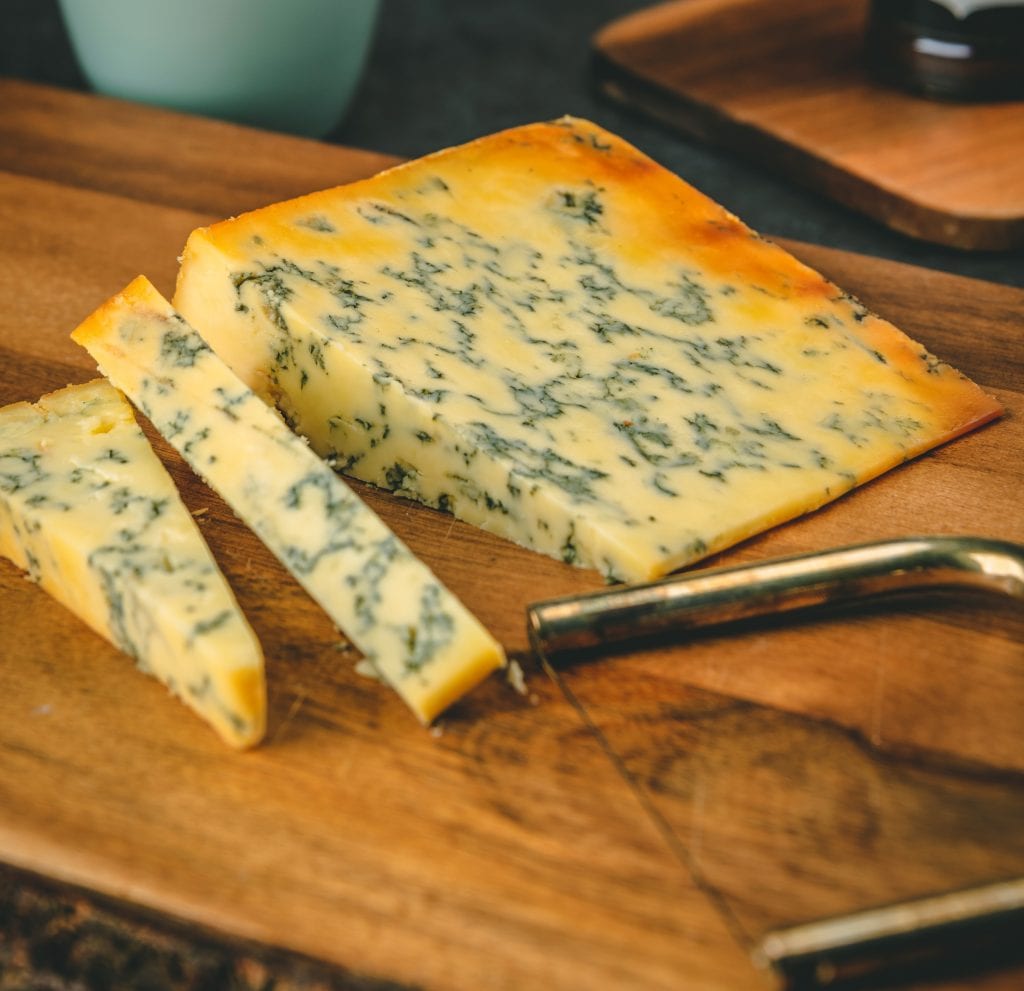 Where? Melton Mowbray
What? A smoked food specialist / A smokery smoke house
A bit of background:
"Feast and the Furious is my smoked food business and food truck established in 2017. My name is Jon and I have had a passion for food and cooking since I was young. Self-taught, I have turned my passion into a hobby and then into a business. My love of all things smoked and BBQ'd has focused most of my offerings into being items that have been smoked, slow cooked or BBQ'd.
My aim is to provide mouth-watering offerings, packed full of flavour, available at markets, farmers markets, fairs, festivals, private functions and to cafes/delis/restaurants. We have our delicious signature 22 hour smoked brisket and we cold smoke cheeses such as halloumi, Brie and Stilton etc but we smoke all sorts from nuts to butter, salt to chocolate, yes you read that right, smoked chocolate!
Our products are smoked over real wood and charcoal, so it imparts the real flavour and aroma of BBQ/smoking. We feel this sets us apart from some of the other "BBQ" products and companies. Slow cooked, smoked or just delicious food is what we are all about!"
We're super happy to have teamed up with Feast & Furious and are delighted that we're able to stock some of their products.
Let's take a look at some of the hand-picked goodies that we now sell on our store!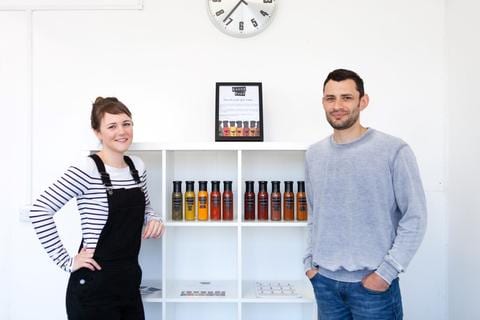 Where? Nottingham
Who? Pam and James
Intsagram: @sauce_shop
What? One stop shop for BBQ, Hot Sauce, Ketchup, Mayo and Rubs
A bit of background:
"In 2014 we came to the realisation that the sauces we were buying in the supermarkets weren't doing our food justice. They often contained water as one of the main ingredients and usually some sort of thickener. Sauces should be about flavour and the big brand stuff just didn't cut it. We cooked up a small batch of Smoky Chipotle Ketchup and enjoyed it at home with friends. It went down so well that we decided to make a few more flavours and started selling them at our local famer's market. Just like that, Sauce Shop was born.
We cooked big pans of sauce in our home kitchen after work and spent the weekends selling them on markets or delivering to shops. Word spread, business grew and by 2015 we left our jobs working in the mass production side of food.
Our mission has always been a pursuit of flavour. We're now a team of 25, who cook, bottle, label and pack every single product. Based in Nottingham, we produce thousands of bottles and jars every week to be shipped all over the world. We're only just getting started though, our ambition is to become a global brand, helping people create great tasting and exciting food all over the world."
WOWEE! Sauce Shop is one of our newest additions to Rustic Kitchen & Deli, and we are very excited to have them with us. There is nothing worse than a thin, watery 'sauce' drizzled all over your freshly BBQ'd burger, is there?! what a way to ruin it hay! Well that is most definitely NOT the case with the Sauce Shop products!! With over 5000 reviews on their website it is clear that they produce an authentic, thick, mouth-watering, great textured, creamy, delicious batch of sauces! We'll let you decide for yourself, but we're telling you, you definitely don't want to miss out on this one!
The products we now stock are:
Where? Rutland
Who? Julian and Tim
Instagram: @Hambletonbake
What? Bakery
A bit of background:
"Hambleton bakery was formed as a partnership between Julian and Tim to make top quality bread for the existing restaurants. The success of the product led to the opening of six shops and more than 150 wholesale accounts. The product range was gradually expanded to include cakes and savouries which share our bread philosophy.
The best ingredients, no additives, and traditional recipes. A landmark moment came in 2012 when the Bakery was the outright winner of the ITV programme "Britain's Best Bakery" to choose the country's best small bakery. We now deliver throughout our region bounded by Chatsworth and Doddington Hall to the North and Peterborough and Northampton to the south."
Everyone loves a freshly baked bread, or pastry for that matter. We knew that there would be no one better to team up with than Hambleton Bakery to help supply all our lovely customers with the freshest, best baked bread EVER. We have hand selected a few of our faves which you can find over on our store. Last orders on Hambleton Bakery products are to be made by 12pm on Thursday's, ready for collection or delivery on the Saturday!
A few of the freshly baked goods which you can find on our store:
7 Cereal Bloomer
Sourdough
Date & Walnut Loaf
Olive Bread
Eccles Cake
Treacle Tart
Who? Rob, Tom & Tim
Instagram: @200degs
What? Coffee Roastery 
Where? Nottingham 
A bit of background:
"Some time, several years ago, two bar owners wanted to serve the best possible cup of coffee to their customers. Thus began a search, that started a journey, which became an obsession, and lead to two men being alone in the corner of a garage (with a coffee roaster) until finally, in 2012, they created 200 Degrees Coffee and decided to show it to the world, starting with Nottingham.

That was the beginning and there are now ten 200 Degrees coffee shops and five barista schools in the UK as well as hundreds of happy wholesale and business customers enjoying our 'beans and machines'.

So why did we call ourselves 200 DEGREES? It's because we roast our coffee a slightly lower temperature than normal of 200 degrees centigrade that yields it's smoother, deeper taste. We then serve our coffee at around 200 degrees Farenheit, so it made sense to us. "


YAY! We're so excited to be able to stock the products of 200 Degrees, they're coffee geniuses! We now supply two products from their range, in either whole coffee bean form, or ground for cafetieres!
Where? Great Dalby 
Who? The Chandler / Mann Family
Facebook: Vine Farm Dairy
What? Bakery
A bit of background:
"The Chandler/ Mann family has farmed the land in Great Dalby for over a hundred years. The dairy started at Vine Farm in the 1950's with two cows, who were milked by hand, in the yard of the original Vine Farmhouse. The dairy side of the farm quickly grew and having long family ties with the local cheese dairy at Long Clawson, Vine Farm became a supplier, a position we are still proud to hold to this day. 
Vine Farm now has over 350 cows in the milking herd and continues to grow from strength to strength with the introduction of the new milk vending machine. The public will now have the opportunity to enjoy this farm fresh milk and share our passion for our cows and the Great Dalby countryside, which has passed through the family from generation to generation."
Free range milk from Vine Farms herd of happy Montbeliarde, Holstein and Jersey cows who graze the beautiful grass pastures of Great Dalby, near Melton Mowbray in Leicestershire. They're suppliers of Long Clawson Dairy, award winning cheese makers who make our Long Clawson Stilton you can find in the Deli – yum!! 
Who? Peter and Cheryl
What? Yoghurt
A bit of background:
Peter and Cheryl have farmed in Thrussington for over 40 years, Peters father before him bought the farm before the second world war and from milking 40 cows has progressed to over 300 today. Peter is immensely proud and passionate about his British Friesian Cross Jersey cows. His cows are out at pasture as much as possible, only wintering in when the weather is adverse. Cheryl recounts that he knows the name and history of every cow in the yard.
The milk is high in both protein and fat which is responsible for the unique creamy flavour and texture of the yogurt. The yogurt side of the Dairy was launched as a diversification project 40 years ago, and from small beginnings now produces 500 gallons of yogurt per week. We continue to supply local Farm Shops, Delicatessens, Butchers and Schools and Universities.
Olympic and other athletes who train at Loughborough University all have Manor Farm Yogurt available to them. Peter and Cheryl are the number one supporters of village shops and local produce, and hopes they continue to develop once more. Low air miles on yogurt stock must be the aim.
Where? Loughborough
What? Butchery
A bit of background:
"Glenn Lewin's are a traditionally run butchers shop in the village of Sileby in Leicestershire. We are purveyors of locally sourced, farm assured English beef, lamb, pork, game and poultry that is fully traceable from the farm to the plate. A wide range of homemade pies and pastries are produced along with our ever popular cooked meats, burgers and sausage. All produced on the premises, by our skilled staff and butchers.
Glenn Lewin butchers shop has been a butchers shop since the 1950's. Glenn acquired the shop in 1992 at the tender age of 19. Then, working along with valuable support from his family, held the belief that the customer wanted value for money. Today this ethos still hold true. Providing the best possible quality and affordable prices."
RKD stock a variety of different meats and meat packs, so be sure to head over to the Butchery on our store and take a look!
Where? Market Harborough
What? Flowers
A bit of background:
"Jessica Mary Flowers are a local independent Florist based in the town centre of Market Harborough. Jess has been in the industry for over 14 years, opening her first Florist shop Sept 2014. Jessica and her team offer a friendly, helpful service and enjoy creating Floral designs for all occasions."
Our store offers 3 variations of Jessica's beautiful flower arrangements
£35 Seasonal hand tie in eco wrap 
£40 Seasonal hand tie in water bubble and box 
£50 Seasonal hand tie in water bubble and box 
Where? Barrow-upon-Soar
Instagram: @thevegfactorltd
What? Fruit and Veg
A bit of background:
"The Veg Factor started in 2009, suppliers of Fresh Produce, Dairy Products and an extensive range of specialist products to the catering trade. We always take daily trips to Covent Garden market, doing this enables us to keep the quality and seasonality high. We are always one of the first suppliers in the area to get the 'first season produce'".
Find some of their fresh daily produce on our Fruit & Veg section!
Be sure to head over to our socials to keep an eye on what we're up to! 
Insta: @rustickitchenco
Facebook: Rustic Kitchen & Deli